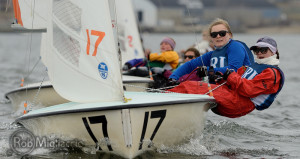 Rachel Bryer capped off a terrific freshman year by being named to the 2014 Honorable Mention Women's All American Team. Only 5 women are named to the All America Team and only 10 to the Honorable Mention Team. After an up and down fall semester Rachel, sailing primarily with fellow North Kingstown High School team mate Fiona Christie, '17, tore up the spring term with an A Division win at the St. Mary's Women's Intersectional, seconds at the Emily Wick and President's Trophies, 4th at the Women's New England Championships, and a 6th at the Dellenbaugh. Rachel also turned in a strong performance at the co-ed New England Championships coming off the bench.
Rachel also won A Division at the ICSA Women's Eastern Semi Finals and finished 6th in A at the ICSA Women's Finals.
In addition to Fiona Christie, Anna Leitner '17 and Kaity Norton '15 teamed with Rachel over the course of the spring season.