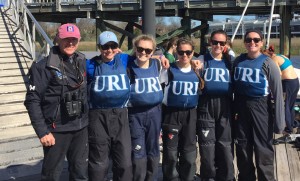 After a bumpy, practice starved start the Lady Rams came back from 21pts down after day one to win the Charleston Women's Interconference in the final set. Rachel Bryer and Hannah Scanlon won A division, finishing with 4 bullets in the final 5 races.
Sarah Hermus, Marisa Decollibus and Courtney Bombardier were 4th in B and grabbed a pair of bullets along the way. They were 2nd in B on day 2.
We are learning how to close the deal.