The 2016 Alumni Regatta for the Konigsberg Trophy will be held Oct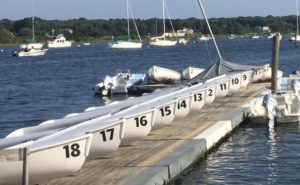 ober 15th.The Konigsberg Trophy is always tons of fun and we're doing everything we can to make it extra special this year. You will be sailing in our BRAND NEW FLEET of Turbo FJs. They are AWESOME! There will be a Cruising Division again this year for those looking for a more relaxed experience, but space will be limited, so rsvp early. Specify cruising on your rsvp so we can reserve boats. If you will be coming solo and are looking for a skipper or a crew we will help you connect with a fellow alum or find a team member to sail with you. Just let us know with your rsvp.
Super Informal Notice of Race
Reporting time is 9:45. Lot of racing after match making and re-acquainting.
Minimum crew weight 300 lbs
Last race about 3:00
Official Christening of the New Fleet at 4:00 with light refreshments.
Entry fee is only $20.00 because we hope you will attend the
URI Sailing 80th Anniversary Celebration at 5:30 in the new Pharmacy Building on Campus. Click here for full details.
To register and secure your berth RSVP to Hannah Scanlon at hannahscanlon4@gmail.com and include:
Name(s), preferred position (skipper, crew, cruising division), mobile phone number, and if you need help finding a sailing partner.
A block of rooms has been reserved at the Holiday Inn at the Tower. To book your room, call 401.789.1051 and mention URI Sailing.
If you have other questions contact:
Hannah Scanlon '18 hannahscanlon4@gmail.com 401-742-6858
OR
Sarah Hermus '18 sarahhermus@yahoo.com 631-245-5594