The Annual Alumni Regatta for the Konigsberg Trophy was held October 18th. 14 teams from several centuries battled it out off Gardiner Island in perfect conditions. Amy Hawkins '12 and Jeremy Henry '11 showed everyone how it should be done, dominating the event with 4 bullets and no finish below 4th. Andy Coutu '68 won the cruising division and made a cameo appearance in the FJ fleet and won the veteran award. There were several teams from the last century challenging the recent grads for top honors. Pete and Meredith Collins '94 were 2nd, and coach Skip Whyte '71, with Hannah Scanlon '18, finished 3rd.David Price '83, Meredith Adams '78, and Pat Connerney '92 all represented the 20th Century with distinction.
The team put on a great cookout after the event and everyone had an awesome time.
Check back later for full scores and pictures.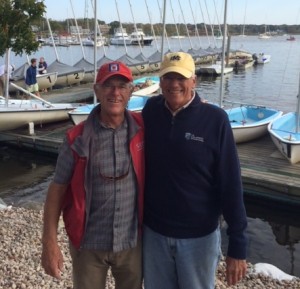 Team mates Skip Whyte '71 and Andy Coutu '68