By Kylie Castellano November, 2020
Welcome!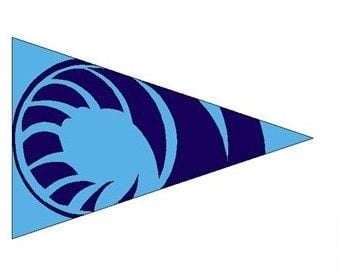 Fall sailing has been like no other here at the University of Rhode Island! As we all know, the corona virus has struck down and caused the cancelation of all NEISA regattas and most of college sailing. This however, has not hindered the URI sailing team's determination to improve for the seasons of competition to come. With the help of our coach, Moose McClintock, and our recent addition, assistant coach, Chuck Allen, we have had the opportunity to make leaps and bounds over other NEISA teams. As the fall practice season begins wrapping up, there is plenty of news to share about these past few months!
COVID-19
COVID has not giveth, but COVID has​ taketh away. As our team mourns the loss of what could have been a beautiful fall racing season, we are still extremely grateful that we have had the ability to practice in our own Salt Pond. At the start of summer, Moose was preparing to have a normal fall season, beginning with our usual pre-season during the first week of September. However, things quickly shifted as Club Sports began to pull back the reins. Pre-season was canceled and circumstances were not looking up for the fall, as our start date was getting pushed back later and later. Just as team members were starting to suspect that the season would get thrown out all together, we got the go ahead from Club Sports to begin practice on September 21st. Approaching the start of practices, the team was informed of a new set of protocols that would be in place in order to maintain safety surrounding COVID-19. Senior and CSIC president, Eddie Garry, has put in a good load of elbow grease in advocating for our team and helping to put in place protocols that are relevant to sailing. While all of this was new to everyone, the team's dedication to this season stood tall and each member took it upon themselves to stick to these protocols.
Our team was set up better than any other school to handle this pandemic. First off, masks were required during briefing, rigging, and sailing. Social distancing was employed during chalk talks out on the lawn of the boathouse and during rigging. Odd and even numbered boats were separated into two waves of rigging to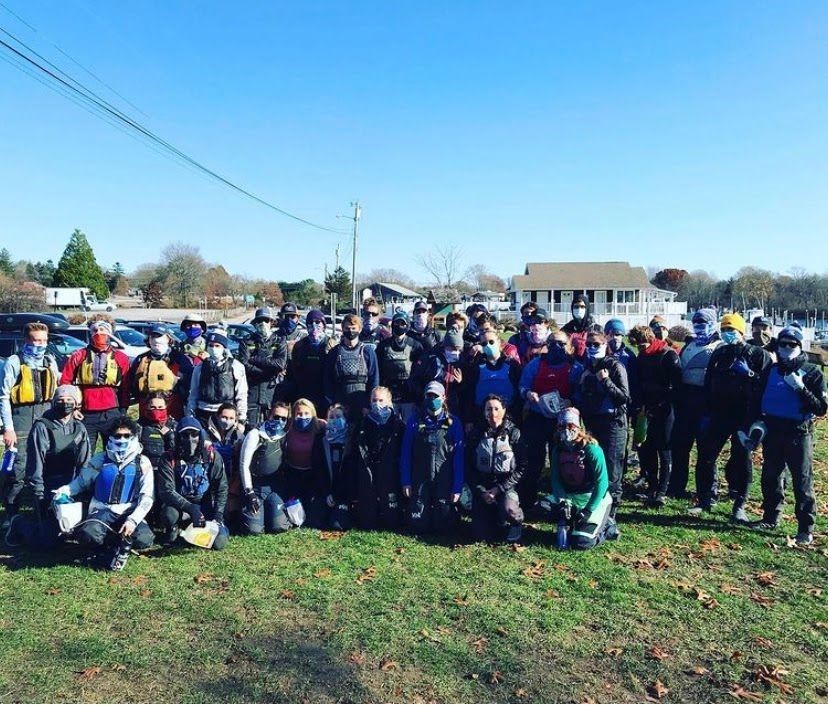 ensure separation on the dock. To make sure that this separation remained when heading in from practice, the second wave of boats to go out did an additional lap around the course at the end of practice, before heading in after the first wave of boats. We also kept our boats spick and span by using disinfectant spray on boat surfaces before covering them for the day. Our rigging and derigging system was inadvertently well set up for these circumstances. While some teams remove the sails from the boats and roll them together each day, we are able to prevent any of the crossover by rolling sails separately, leaving them in the boat, and using the same covers on the same boats each day. Additionally, we were assigned a set number of hours that we were allowed to practice each week. The team would be allowed four 20 hour weeks, and the remaining weeks could only be 14 hours. Moose elected to spread out these 20 hour weeks throughout the fall to use 4 hours on Saturdays to hold in house regattas. Each and every team member has shown care in this process, which has made it that much easier for us to do what we are all here for; sailing.
Practice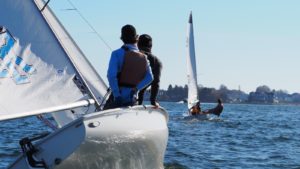 Nothing beats getting back on the water after a half year hiatus from the Salt Pond. Practices this semester have been fully dedicated to improving for the spring season, in hopes that we have one bountiful with regattas. With a new group of freshmen chock full of talent, we have had the ability to try and test some wonderful skipper/crew combinations. COVID-19 protocols have changed how we get on and off the water, but they have not curbed the intensity of practices. One of the best ways that Moose has been able to ramp up practices was through using tons of feedback. After meeting with each individual team member last year, he gathered some really important observations and devised a plan to make practices extremely beneficial this year. He shared that the most common request was for more variety in drills and to have videos taken and reviewed as frequently as possible. For those who are common with sailing drills, some of our favorites are box starts, long bouts of tacking and jibing on the whistle, and head to wind holds, just to name a few. One of the main goals for this season was to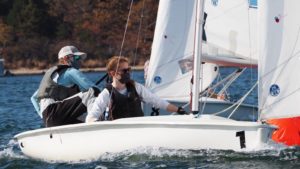 tighten up our huge fleet and get the bottom half up to a much higher level. Reducing the spread of the fleet would create better competition for all team members. Not only was this goal achieved, but we saw record improvement in all levels of the team. Each and every sailor pushed each other to be better and since we weren't necessarily working towards regattas, it has been a great way to keep people invested and working hard.
Chuck Allen
One of the most exciting aspects of this fall has been the addition of our new assistant coach, Chuck Allen. Chuck has been an exceptional member of our team and his presence has allowed us to reach our goals much faster than possible with one coach. His vast experience in professional coaching spans beyond 20 years, as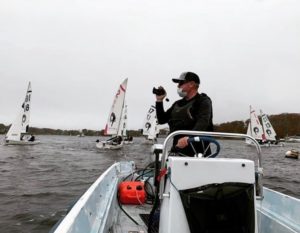 he ran clinics for North Sails and much more. Aside from his coaching career, Chuck also worked in the marine industry as a sail maker. Not only is he an avid sailor and coach, but he is also a cherished URI alum! Chuck graduated in the class of '91 and was awarded All American in '89 and '90. As an extremely successful URI sailor, he surely knows the ins and outs of the pond and the school. Having Chuck on board has changed the way we practice. He has introduced many new drills, and he and Moose have been able to collaborate in a way that has made our team so much better. Without fail, Chuck is able to capture moments of every sailor's performance on video and as he also provides commentary on the situation at hand. These videos have been a key component to the team's improvement, as we dissect them during our team meetings every Tuesday. The team is extremely grateful that we have gotten the chance to welcome Chuck as a coach this year!
Regattas
We have had the unique opportunity to host in house regattas on three Saturdays this fall. While varying class schedules never allow for complete practices with each team member, these regattas have given us the opportunity to get most of the team out racing at once. Both the FJ and 420 fleets were in full use in order to get everyone out on the water for some beautiful days of sailing. These regattas helped to simulate one day of what a true weekend of racing would look like. This is especially important for our freshmen, who have never experienced college racing before. The goal of these regattas was to get them acclimated to what they will eventually be facing and to hold the entire team to a competitive standard. To spice up conditions even more, we sailed past our normal practice spot in the middle pond, into the area of the lower pond just off of Camp Fuller. This creates an even playing field, as this area presents different factors for wind and current that no singular team member is very familiar with.
At the end of the day, Moose added up the scores and announced the winners in each fleet. Our first regatta, on October 17th, boasted a very puffy and switchy westerly breeze. These conditions were challenging but many sailors showed their will to prevail. In the fleet of fifteen FJs we had Henry Lee and Athena Vieira in 3rd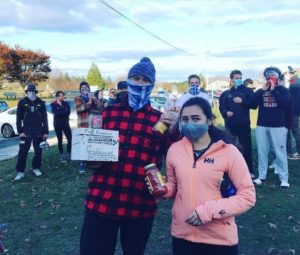 place, Kyle Nannig and Ryan Smart in 2nd, and Zach Champney and Anika Martz in 1st. In the fleet of eight 420s we had Christian Moffitt and Jonah Shochat in 3rd, Luke Ingalls and Caitlin Abel in 2nd, and Mikey O'Flaherty and Maguire Bennett in 1st! Our second regatta, held on November 7th, held a beautiful southerly with a summery temperature of 70º. There wasn't one face without a huge smile that whole day, it was perfect! In the FJ fleet, there was a tight tie breaker between the second and third place boats, with both having two seconds and two firsts. After a long bloodshed battle, Kylie Castellano and Sadie Thomas came out in 3rd, Zach Champney and Ryan Smart in 2nd, and Aidan Naughton and Mackenzie Fraser in 1st. In the 420 fleet we had Ryan Palardy and Rowan Woods in 3rd, Tyler Miller and Arty Ortega in 2nd, and Eddie Gary and Eliza Taylor in 1st.
We ended the fall season with our annual Fall Classico regatta. This regatta is intended to be a fun way to wrap up, with crews skippering every other race. This makes for some hilarious entertainment for Moose and Chuck. The other difference with the Classico is that we break up the fleet into teams of three, with two boats in the FJ fleet and one boat in the 420 fleet, giving rise to some very enthusiastic teammate encouragement. After another picturesque day of racing, one team came out on top: Josh Bartozsuk and Mackenzie Fraser, Ryan Palardy and Katie Coughlin, and Will McKeige with Gabby Cappelli.
Member Highlights
Much of our success during this erratic fall is attributable to our killer captains; seniors, Becca Read and Luke Ingalls. They have both been doing an outstanding job at keeping our team safe, pushing for the success of teammates, and spreading an incredibly positive attitude everywhere they go.
Many members of the team have been taking advantage of the time left over from a reduced sailing schedule to race in outside regattas and expand their horizons. Emilia Marino has taken full advantage of a complete set of online classes to nanny on a 50 foot Hanse 505 while sailing up and down the east coast. She spent the summer sailing up the coast of New England, and will soon be leaving Charleston, SC to sail down to Georgia and then onto Florida. Next on the list is Parker Colantuono and Luke Ingalls. They both traveled down to Hampton, VA to sail in the 505 East Coast Championship, which was spread over three days at Hampton Yacht Club. There were 15 boats participating, all with extensive amounts of talent. Parker, a junior, sailed with our former assistant coach, Dave Kirkpatrick, and they earned themselves a spot in 3rd place. Luke sailed with his father, John Ingalls, and landed the win! Our last highlight is sophomore, Ben Rosenberg who has taken half of the fall semester over in California to sail with the US Sailing Team Nacra 17 squad. Ben has been training from July through September, working as a training partner with Riley Gibbs and Anna Weis, who will be attending the 2021 Olympics in Tokyo. He has gained a ton of valuable knowledge from this experience and plans to compete at the 2021 Junior Worlds in Gdynia, Poland! We are so proud to see so many of our teammates branching out and turning the downfalls of COVID-19 into positive times of growth. As we look forward, we are happy to see that we have a strong up and coming class of freshmen, as well as some very strong prospects for next year's freshman class. Moose is determined to build the women's team for the coming years and get them on a very high level for team racing, as women's team racing nationals is on the horizon for the spring seasons to come. We are really looking forward to seeing what everyone brings to the table!
Remembering a Beloved Alumni
As we reflect on our successes and all of the things we have to be grateful for as a team and a family, we also look fondly upon the memory of a past family member, Geoffrey Ewenson. Geoff, class of 93', passed suddenly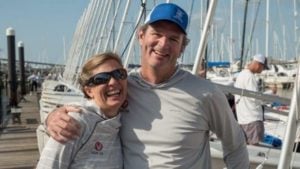 on October 14th, 2020 due to a heart attack at the age of 50. He was a highly regarded member of the URI sailing team, as he was a two time All American in 91' and 92', and Honorable Mention in 93'. He was a die hard Ram, and he encouraged anyone and everyone to attend URI and supported the school in many ways. Geoff's continued support was a tremendous help to maintaining the success of our team. He had a wide grin and happy-go-lucky attitude that never wavered and he was so loved by everyone who had the chance to know him. In memory of our former teammate, the Salt Pond will be renamed Ewenson Cove. We wish all the best to Geoff's family and friends during this difficult time.
Looking Forward
While we can't wish a true spring season into existence, we can​ prepare for whatever we face next. Right now, decisions about the future seem way up in the air, as we might be in the same place that we are currently. Not one person can predict what happens next, but there are a few tentative ideas being thrown around in the college sailing world. Talk of a NEISA single handed nationals is in the works, and could be local! If this plan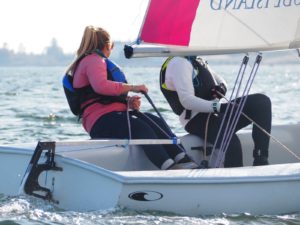 gets carried out, URI would be hosting the New England and National championships out of Sail Newport at the beginning of May. Plans are being made to hold the other spring and fall championships in May but as yet, state health protocols are limiting a definitive schedule. The nice thing about singlehanding is already being socially distanced on the water! As the uncertainty in the COVID sailing world continues, our team continues to do everything in our power to stay competitive. Consistent practices and outside regattas are key to our improvement right now. The goal for this winter is to make like snowmen and get everyone frostbiting. There are plenty of opportunities for doing so in most places and in most boats. We have some team members who have already begun Laser frostbiting in Newport, and some racing Sea Dogs in Wickford. With an abundance of opportunities to sail this winter, getting this time in the boat will be key to a fruitful spring season!
Coach's Corner
"With the fall season behind us, I have had the opportunity to reflect on both the good and the bad of this incredibly strange year.  Starting in March with the sudden cancellation of our very promising spring season, and watching the Intercollegiate fall season disappear as well, the thoughts of how to make this year meaningful for the team was my main priority.  College sailors are limited to 20 hours per week of practice in a regular season, and no more than 4 hours a day. In back and forth conversations with ICSA, I pushed for full 20 hour weeks all fall so that we could have inhouse regattas every weekend.  Though this was eventually limited to just four weeks, we were able to use the NCAA mandated 14 hour weeks to get the maximum time on the water.  We changed from four days of 3 ½ hours practice to five days, with no one sailing more than four days.  This allowed another day for team members who had class conflicts to get on the water, a valuable asset for keeping everyone invested.  This was an excellent vehicle for getting our freshman squad accustomed to the boats and pairings and kept more boats sailing daily.  It also got the team into the drill mode that many had asked for last year, the improvement of the entire team was noticeable.  While we always stress that you practice like you race, it was more evident than ever as competition on the water heated up.
Not quite as good was a COVID induced break when one team member tested positive right after our first weekend inhouse regatta, an unfortunate hiccup not related to the team on the water.  This forced a 2 week quarantine of the team with no sailing, which would seem to be a bad thing.  However, the enthusiasm the team showed on returning from the health hiatus was ramped up as everyone was so excited to get back on the water.  Strict adherence to the necessary school mandated health protocols became even more focused, and we made it through the remainder of the season unscathed.  Two more weekend regattas were held in fantastic conditions, the team improved and we're mentally set for the spring whether we have an intercollegiate season or end up with everything in house again.
I can't say enough about how impressed I am with our team.  When you can only practice, with no definitive goal like a spot in the weekend regattas on the line, it is easy to become distracted and lose focus on the goal of improvement.  That was never an issue for this team, every day there were questions about boat handling and setup, tactical situations and crew work, anything that the dedicated sailors of the team could do and learn to get better.  We were also able to switch quite a few people around, with many of our talented crews looking to skipper in some of the practices and showing a knack for getting the boat around the course.  Having this flexibility allowed us to have a full complement of boats out every day, and that really is the goal.
I don't know how the spring is going to work out right now, I'm hopeful that the pandemic will come under control in the next few months with promising medical advances being made daily. I do know that if and when we can get back to racing competitively, the work the team put in this fall will pay off.  Can't wait!"
-Moose McClintock