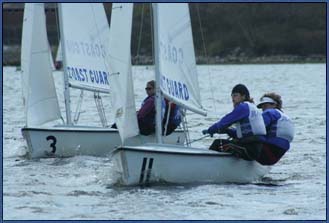 10. If you work hard at practice, you sail more events. Period.
NEISA is the smallest district geographically with the greatest number of competitive teams. As a result, there are regattas for every level of sailor every weekend.
9. We sail in the most competitive district in the country.
The URI Sailing Team competes in New England Intercollegiate Sailing Association (NEISA), the most competitive district in the country, against teams including Yale, Dartmouth, Boston College, and Tufts.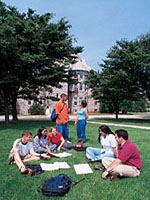 8. We are more than just Rhode Island; 45% of our students are from out-of-state.
URI's 14,000 undergraduate and 3,000 graduate students come from all over the country, representing 46 US states and territories. This mix of students adds to the rich diversity of the University and illustrates just how desirable it is to live and go to school in Kingston, RI.
7. The word is getting around: URI is on the rise.
Applications from out-of-state students are now more than twice that of in-state applications, and combined SAT scores of all enrolled students continue to rise, now averaging almost 1200. With hundreds of majors to select from, you are assured great educational opportunity.
6. Short travel time to competitions.
URI is centrally located to all other New England teams (NEISA) so travel time is limited. Most of our events are located within a two-hour drive.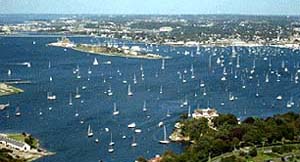 5. Access to Newport, providing unparalleled sailing and marine job opportunities.
Newport, sailing capital of the east coast, is only 25 minutes away. It offers the best competitive sailing in the off season, whether it be the Tuesday night team racing, Thursday night J/24 series, the Sunday Laser Frostbite series or Grand Prix Racers, you'll never sail against so many champions at one time.
It's the best!
4. Great facility, fun boats, and spectacular sailing conditions.
With our state-of-the art sailing center, fleet of 18 FJs, and superb sailing conditions, sailors love our venue.
3. Our sailing venue, Salt Pond, offers some of the finest sailing conditions in college sailing!
A salt water estuary, Salt Pond is a spectacular setting for sailing year-round. Connecting to Point Judith and on to Block Island Sound, the conditions and the scenery are forever changing. This site allows the team the versatility of practicing on the "pond" or in the ocean, giving URI some of the most spectacular and variable sailing conditions that can be found in college sailing.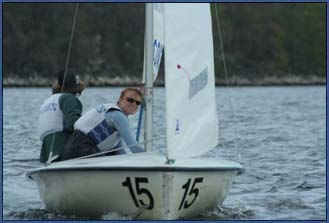 2. A 70 year history of winning.
Year after year we supply All-Americans, Kennedy Cup winners, members of America's Cup teams, and US Olympic sailors [see our list of Notable Alumni ]. And now, with Moose McClintock as our coach, we feel assured of a great many more winning seasons ahead.
1. Nine other great reasons PLUS four years of fun, friends, sailing, and learning.
Come Race with us!