| Name | Position | Hometown | Academic Major | Class |
| --- | --- | --- | --- | --- |
| Beth Albone | Skipper | Buckinghamshire, UK | Pharmaceutical Sciences | Senior |
| Taylor Borges | Crew | Middletown, RI | Psychology/ Public Relations | Senior |
| Eddie Gary | Skipper/Crew | Baltimore, MD | Civil Engineering | Senior |
| Zach Champney | Skipper | Mystic, CT | Mechanical Engineering | Senior |
| Parker Colantuono | Skipper | Portsmouth, RI | Accounting | Senior |
| Mackenzie Fraser | Skipper/Crew | Warwick, RI | Ocean Engineering / French | Senior |
| Megan Gimple | Skipper | Arlington, VA | Ocean Engineering | Senior |
| Meghan Haviland | Skipper | Sharon, MA | Ocean Engineering | Senior |
| Max Hooker | Skipper/Crew | Marlborough, MA | Mechanical Engineering | Senior |
| Liz Kass | Crew | South Kingston, RI | Veterinary Medicine | Senior |
| Nick Kozaritz | Skipper | Elmwood Park, IL | Criminal Justice | Senior |
| Emilia Marino | Crew | Bristol, RI | Ocean Engineering | Senior |
| Will McKeige | Skipper/Crew | Mamaroneck, NY | Marine Affairs | Senior |
| Aidan Naughton | Skipper | North Kingstown, RI | Mechanical Engineering | Senior |
| Ryan Palardy | Skipper | North Smithfield, RI | Marine Affairs | Senior |
| Bo Eaves | Skipper/Crew | Mamaroneck, NY | Political Science | Junior |
| Jack Honan | Crew | Arlington, MA | Mechanical Engineering | Junior |
| Iain Jaeger | Skipper | Basking Ridge, NJ | Mathematics and Finance | Junior |
| Thomas Johnson | Skipper | Annapolis, MD | Chemical Engineering | Junior |
| AJ Kozaritz | Skipper | Vermilion, OH | Marketing | Junior |
| Clare Laroche | Crew | Bristol, RI | Ocean Engineering | Junior |
| Tyler Miller | Skipper | Newport, RI | Mechanical Engineering | Junior |
| Jo Riley | Skipper | Marion, MA | Mechanical Engineering | Junior |
| Ben Rosenberg | Skipper | East Greenwich, RI | Mechanical Engineering | Junior |
| Eliza Taylor | Crew | Newport, RI | Ocean Engineering/French | Junior |
| Sadie Thomas | Skipper/Crew | Dartmouth, MA | Pharmacy/Spanish | Junior |
| Rowan Woods | Crew | Sutton, MA | Electrical Engineering | Junior |
| Katie Coughlin | Crew | Warwick, RI | Nursing | Sophomore |
| Henry Lee | Skipper | Edgewood, RI | Business | Sophomore |
| Halle Peterlin | Crew | Stratford, CT | Geological Oceanography | Sophomore |
| Anthony Purcell | Skipper | East Greenwich, RI | Ocean Engineering | Sophomore |
| Miles Williams | Skipper | Seattle, WA | Mechanical Engineering | Sophomore |
| Ava Wilson | Crew | Chicago, IL | Political Science/Gender and Women's Studies | Sophomore |
| Brigette Alves | Crew | Somerset, MA | Psychology/Health Studies/Pre PA | Freshman |
| Spencer Asofsky | Skipper | Bay Shore, NY | Landscape Architecture | Freshman |
| Miles Bailey | Crew | Middletown, RI | Marine Affairs | Freshman |
| Dean Balcirak | Crew | Saunderstown, RI | Pharmacy | Freshman |
| Josh Bartoszuk | Skipper | Warren, RI | Mechanical Engineering | Freshman |
| Declan Botwinick | Skipper | Toms River, NJ | Business | Freshman |
| Alden Coldreck | Skipper/Crew | Kennbunkport, ME | Marine Affairs | Freshman |
| Kerem Erkmen | Skipper | Istanbul, Turkey | Computer Science | Freshman |
---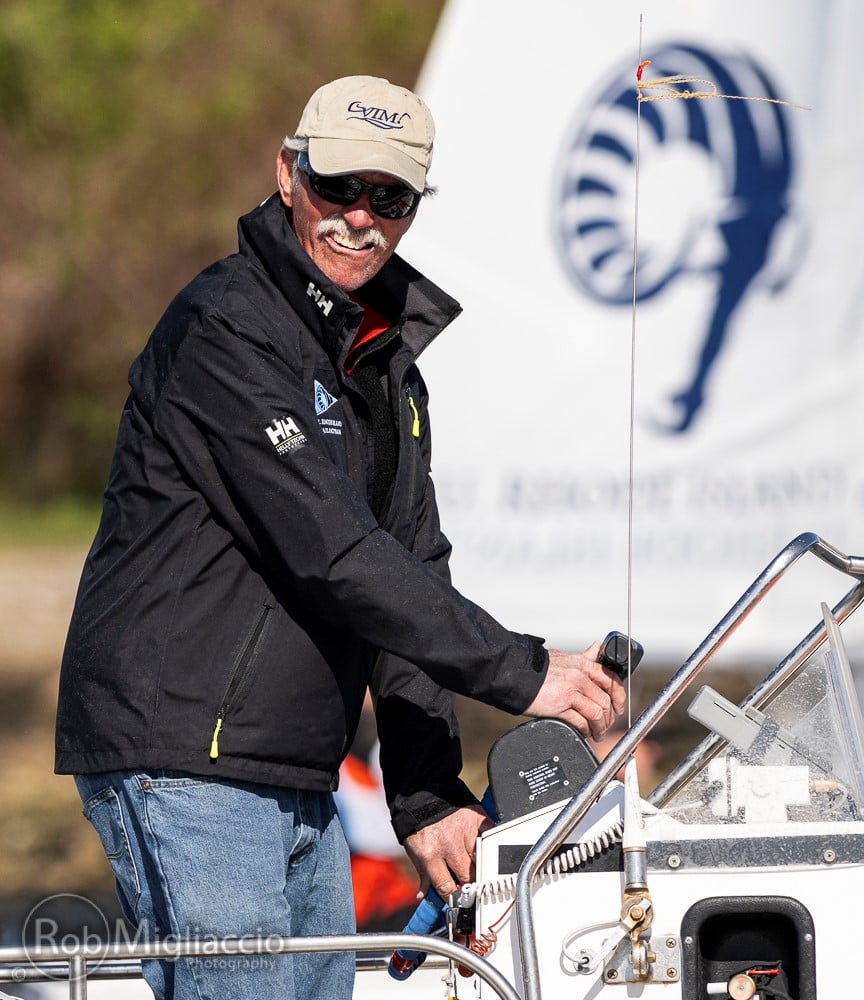 Moose McClintock, Head Coach
Moose McClintock is a URI alumnus, graduating with a BA in English in 1976 and serving as team captain his senior year. Following his graduation, Moose dove into the marine industry, working as a sailmaker for 15 years before moving on to a career in the sailcloth industry. During this time, Moose sailed in multiple venues worldwide, bringing home 9 world championships and multiple North American, European and National championships. Most notable in his sailing career is his involvement in match racing, winning 5 Congressional Cup championships and multiple WMRC titles. His match racing career culminated in 2nd place finishes in both the 1995 America's Cup defender trials and the 2000 Louis Vuitton Challenger finals.
It was during the AC experiences that the value of elite coaching took hold. Moose has coached one design through offshore teams in boat handling, sail trim and design, and team building, culminating in the most rewarding result, a bronze medal for the 2.4 Meter class in the 2008 Paralympic Games. This was a unique opportunity to coach a severely disabled individual to their peak ability. This success resulted in Moose moving on to coaching more actively, with his teams showing dramatic improvement and consistency.
When the opportunity arose to coach at his alma mater, it was a very easy decision. The opportunity to bring over 45 years of experience, covering a broad spectrum of disciplines, to the URI sailing team is one of a kind, and he looks forward to the challenge of maintaining the success of the program and building on it going forward.